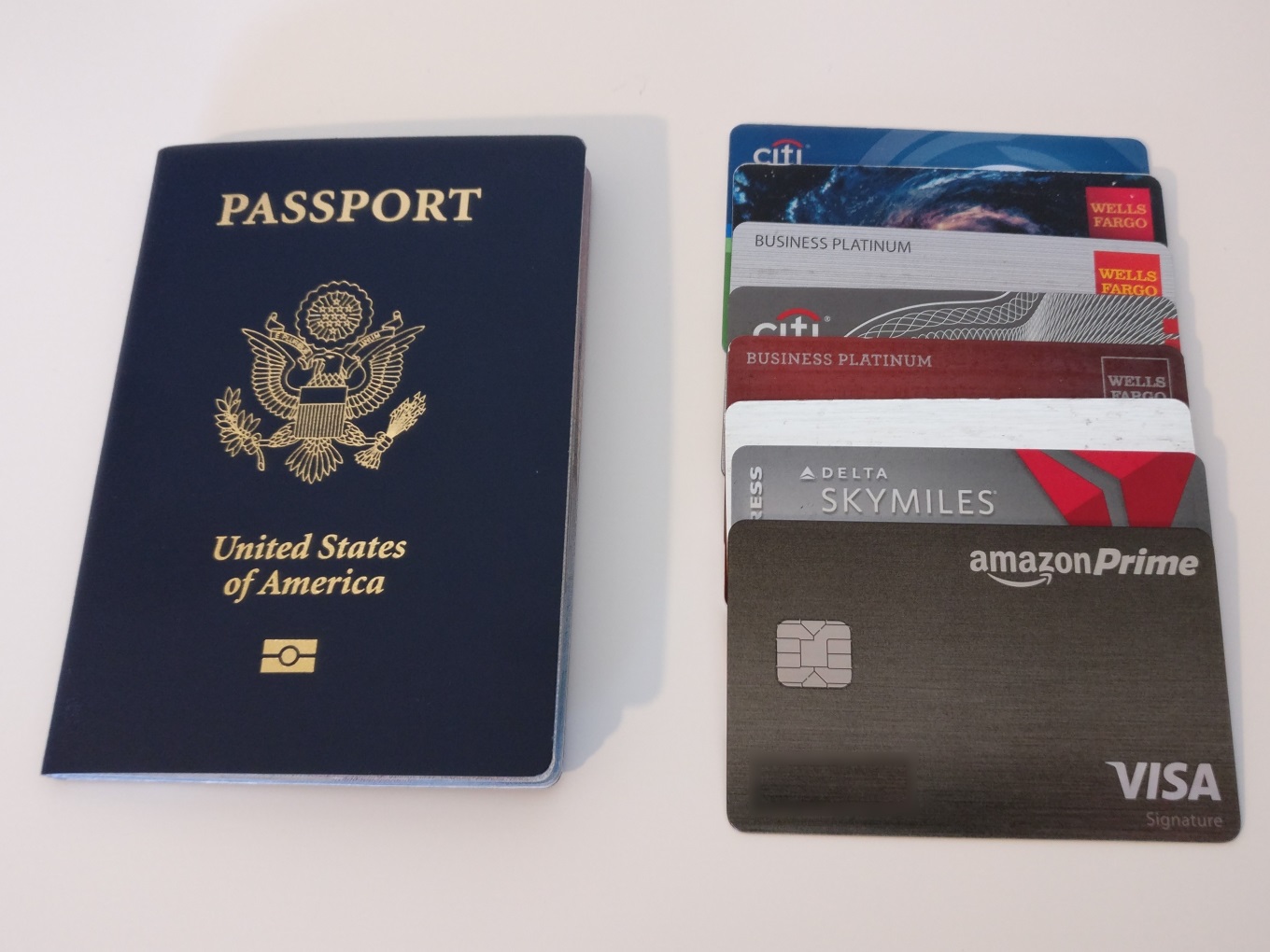 For Americans payment may seem so universal that it's a shock to go overseas and experience difficulty in paying. My wife and I recently spent a month in the United Kingdom, especially in Scotland. Paying in Scotland and England is essentially the same experience, but it might not work the way you'd expect. This guide is to help you avoid extra fees and frustration while traveling to the UK. Most of this advice will apply to world travel and EU travel especially, but there are some country-specific exceptions.
1. Find Your Best Credit Cards for Travelers
Before you do anything, make sure you have the right credit card. The card should have the following features:
No foreign exchange rates! This is very important, because otherwise you'll end up paying 3% or more on top of every single transaction. Depending on rate charts this can actually end up costing more than 3% Do not assume your card has no foreign transaction fees just because it's made for travelers. Many miles/travel cards will charge 3% for anything on a foreign currency.
Wide acceptance: Visa and MasterCard are usually best. American Express has surprisingly wide acceptance, but moreso in tourist areas.
Chipped: Most US cards now have chips, which is a huge improvement over swipe-only cards for travelers. This is a must have, as some retailers will no longer even accept a card without a chip.
High rewards, low interest: As always, you should use a card that maximizes rewards. If you won't be paying the card off right away make sure you get a card with a low interest rate. Pro tip for those carrying a balance: call your card company and tell them you're considering canceling if they can't give you a lower interest rate temporarily. Larger banks will sometimes give you 2.9% or similar on new transactions for 6+ months.
Rental car coverage: Waiving the damage waver from the rental company and using the card for all rental expenses will cover you for insurance on the car if the card offer this feature. It is preferable that the card offers primary, rather than secondary, insurance.
Other benefits: Many cards offer additional insurance-like benefits on travel-related purchases. These vary by card and are discussed below.
Make sure to sign your card with something that won't rub off. Otherwise you'll be required to pull out a photo ID with a signature on a regular basis. Unlike in the US, your signature will be checked regularly.
Some cards may also offer a chip and PIN functionality. This PIN is a transaction pin, and shouldn't be confused with a cash advance PIN. It's more like the PIN people used to use with debit cards before everyone realized you can just run a debit card as credit. In fact, debit cards work fine for this except you miss out on rewards. Chip-and-PIN cards are very rare in the US, and will almost exclusively be marketed as international travel cards. These cards will allow you to act more like a local and use your PIN at the terminal without having a receipt printed and signed. Unless you plan to travel in this region a lot, it's probably not worth applying for a new card just to get chip and PIN functionality — especially when you can just use Google or Apple Pay to accomplish the same thing (see #2).
Make sure to inform your credit card company of any travel plans to avoid getting locked out. Some have online forms in the members' section for this, and some you will have to call.
The Best Credit Cards for Traveling
Without further ado, here are the best credit cards for US travelers. None of these cards have foreign transaction fees, as that's an instant deal-breaker for a travel credit card. Interest rates will depend on your credit and payment history, so you will need to check on that yourself with your existing cards. We have no financial incentives or partnerships regarding any of these cards or banks. It's just here for your information.
Amazon Prime Visa
You don't see the Prime card come up often because it's not marketed as a "travel" or airline credit card. It is a surprisingly versatile card with good travel benefits, though, especially if you don't like being locked into a specific airline or hotel chain. The "points" translate directly into dollars on Amazon.com. You must be an Amazon Prime member, but if you already are there is no additional annual fee. It's also probably the easiest cards on this list to obtain. You get 5% back at Amazon, making it an obvious card to get anyway for regular Amazon shoppers. Benefits also include 2% on gas stations, restaurants, and drug stores, and 1% on everything else. Auto rental coverage varies, but in the UK ours included primary coverage: another huge benefit we didn't even know we had. We got the card to save on Amazon, but we were very impressed using this card abroad. Do note it's especially important to inform Chase (who administer the Amazon card) about any travel plans. If you do fly a lot and usually fly with the same airline, you may want to look at some of the options below.
Best card for Amazon shoppers who travel 1-2 times per year (or not at all)
Bank of America Travel Rewards Visa
If you're not a Prime member, don't travel regularly, and want to avoid an annual fee, this is the next card we'd recommend. It's also a good one for people taking vacations they might not be able to pay off right away, as it offers 0% interest on new purchases for the first 12 cycles (about a year). Rewards are higher than some at 1.5 points per dollar spent, or about 1.5%. The airlines are not listed other than the card being "not tied to any particular airline," but in practice Alaska and Virgin appear to be the most reliable partners. Rental car coverage varies, and is mostly unlisted. You'll need to call to see what coverage is like for the country or countries you're visiting. This is always a good idea, but we can't guarantee any benefits in this realm. All told it's a well-balanced travel card for people who don't like recurring fees.
Best card for infrequent travelers who use different airlines and want to avoid annual fees
Chase Sapphire Preferred Visa
This card is for frequent travelers who use multiple airlines. It's a travel card designed to be used by travelers, especially for travel expenses. Cardmembers earn 1 point (essentially 1%) per dollar spent and 2x the points on any travel and dining expenses. Points can be transferred into other rewards programs at hotels (IHG, Hyatt, Marriott, Ritz Carlton) and airlines (United, JetBlue, British Airways, Virgin Atlantic, Southwest, and some smaller airlines). When booking directly through the Chase Rewards site you earn an additional 25%. The resulting rewards on hotel, airline, and dining expenses is as high as 2.5 points (essentially 2.5%). Further benefits include auto rental coverage as primary insurance without any additional fee, making it a good card to rent a car with. There are some additional benefits with baggage delay insurance and trip insurance, but the terms are painfully complex. The worst thing about the Sapphire Preferred card is the $95 annual fee that kicks in after the first year. This makes it mostly desirable for someone who travels a lot and wants a few different airlines.
Best card for frequent travelers who want to maximize rewards across cards
CapitalOne Venture Rewards Visa
This travel card from CapitalOne is a fantastic option for people who love to travel and don't want to manage swapping cards for every occasion to earn an extra percent here or there. You earn 2 points (2%) on every purchase, period. There are no limits or purchase types to manage, but you can earn quite a bit more (up to 10%) when booking through a qualifying hotel on the Hotels.com CapitalOne partnership portal. Airline partnerships include Aer Lingus, Air France/KLM, British Airways, Iberia, JetBlue, Singapore, Southwest, United, Virgin Atlantic, with more partnerships in the works. These rewards are similar to some of the best non-travel credit cards, and only the $95 annual fee (waived the first year) makes this more restricted to a traveler.
Best for travelers who want to use one card for all purchases earning travel rewards
Your Preferred Airline's Card
It's not a bad idea to use a travel card specifically for the airline you most often fly with. Not only do you often get free benefits like waived baggage fees, but you'll qualify for reduced rates and free upgrades on some flights. For example, a Delta flight with Delta's American Express cards might cost something like $1,457, but only cost 124,000 miles plus $48 in taxes and fees. This was a real example, and translates into a roughly 12% bonus for using miles. This creates a strange market where buying miles with things like the mileage booster actually makes sense. And every time you use the card you get closer to a higher tier, which means additional benefits and a higher chance of free upgrades. Of course there are downsides that vary per card. Generally there are annual fees and some of these cards (like AmEx) have spotty coverage outside the US requiring a backup. Here are the cards and some quick info for each:
As a final thought, do use the benefits on these cards, but use them responsibly. If you're going to spend the same amount of money, not using a credit card with rewards is throwing money away. However, after selecting the best card(s), try your best to ignore the rewards and spend like you're spending cash while avoiding rolling balances. Even if you get 5% back, you're still spending 95% of the money. Spending more to earn more or reach higher status is a fool's errand. Watch out for annual fees, and beware the fleeting sense of prestige carrying a different color of card might give you.
2. Use Google Pay and Apple Pay
I highly suggest using Google Pay as much as possible. In the UK this worked about 95% of the time and it made everyone's lives much easier. This does require your phone have NFC (near-field communication) turned on, but that's almost universal for phones made in the last 5 years. Paying by phone saves a tremendous amount of time, and the people you're buying from will prefer it. Most merchants are not used to having you sign. Only Americans have to sign, and it's a little annoying for them each time to gather the signature, check it, then store the receipt. Locals pay quickly with a contactless card or by entering their PIN into the terminal instead of signing. You'll know you can pay with Google almost every time you see this icon on a credit card terminal:

If paying with a phone seems insecure to you, remember that you can turn on fingerprint verification on supporting phones, or you can always use PIN verification. A very few merchants will not allow you to pay by phone for large transactions, but every time I saw this icon I was able to pay with Google Pay. Here's how you do it.
Make sure you have a shortcut to Pay. Many phones come with a default icon for Send, but that's actually a shortcut within the Pay app and not what we're looking for. On Android phones you can switch cards by pressing and holding on the shortcut.
Choose the card (from step 1) that you want to pay with, and set it up well before you need to pay. Some card companies want to verify the card with temporary transactions, which can take up to a week. Most will verify the card with the same login you use to pay and access your card online.
Make the card your default terminal payment method by clicking the contactless icon (the same as above).
Make sure your NFC is on and your phone is unlocked. Most phones will show a N next to the WiFi icon. The Pay apps will also give you an alert that NFC is off when you open them. You do not usually need to have the app open to pay.
Consider practicing before you leave, or practice somewhere friendly where the lines aren't too long. It should go smoothly if you follow these steps, but it's nice to be sure.
Important: Some merchants will tell you that contactless is only allowed on payments under 30-35 pounds. This is not true for the phone if you see the icon above. Some terminals will turn off the NFC functionality if the amount is higher, but this is store specific and rare. I was able to pay bills exceeding 1,000 pounds with my phone. This happened to me many times:
"That'll be 75 pounds, please."
I'd see the terminal in front of me with the icon displayed, open my phone and touch it to the terminal. I got the blue check mark, so I knew it had worked.
"Oh, I'm sorry sir that only works on transactions under thirty…. wait a minute… huh, it went through."
"Yeah, the limit's higher when you pay by phone."
"Oh, I never knew that!"
This is technology with few early adopters so far, so be patient. If you don't have a terminal in front of you and staff tells you it only works for under 35 pounds, don't argue. Just give them your card and your thanks. Not only is this conflict unnecessary, but you may end up feeling like an ass if the store you're in a store with one of the rare point-of-sale terminals that lock down card and phone payments on larger transaction.
Important: Even though you're using Google pay, which has near-universal acceptance on all but the oldest systems, the type of card you're using must still be accepted by the merchant. You cannot use your Discover card with Google Pay and expect it to work. Fees will still apply, so it's very important to get a card without foreign transaction fees as discussed in step 2.
3. (Avoid) Exchange Rates and Cash
Cash businesses are rare these days, but they still exist. At this point it's mostly stubborn old-school businesses that won't take a card, but there were a few very rural businesses that don't want to pay for a slow satellite connection. It's also nice to have cash on hand for things like tips. In the UK we only went through about $100 per week, and that was with a lot more tipping than was necessary.
The first thing to know is that exchanging cash is a bad idea, period. Everyone will tell you not to change in the airport. It's true that the exchange rates at airports are worse, but what no one tells is is they're not really good anywhere. It's often hard to tell if you're getting a good deal because rates are giving in confusing non-standard buy-and-sell terms rather than in a simple exchange rate. Banks may give you a fair rate with a small fee, but it's unlikely your bank has an international branch where you can exchange. Most UK and European banks will only change currency for you if you're a member of the bank, which means you have to be a resident. You're therefore limited to commercial currency exchange, which you'll only find around tourist destinations.
Instead, find an ATM from a legitimate bank and withdraw cash after arriving. You'll usually pay a fee, so it's best to do this all at one time if you feel comfortable carrying that much money around. In almost every scenario (basically anything over $50) it's much better to pay a one-time fee than to lose a fifth of your money to a shady currency exchange business. You can store the cash along with your passport and other valuables back in a hotel safe if you have one. Otherwise, just use your credit card with your Pay app as much as possible.
If you absolutely must exchange cash for some reason, look up exchange rates and make sure you understand how much you're about to lose. 2-3% is fair profit, but 10-20% is much more common. Losing 20% before even buying anything should never be plan A.
4. Understanding Payment and Etiquette
First, let's discuss tipping. As you may know, tipping in most of the world is not like tipping in the USA. In the States some professions make pathetic hourly wages with the justification that it'll be made back on tips. In Europe and the UK tipping really is optional. People are paid a fair hourly wage. Tips are always appreciated, but you should never exceed 10%. Acceptable "good tips" are 5% or 1-2 pounds per person in your party. You might think tipping 20% is nice, and it will of course be accepted with thanks, but it will also make you look more ignorant than generous.
Many Americans are shocked by what they perceive as "poor service" in Europe. They'll often blame this on the fact that tips are a smaller part of the transaction. There may be some truth, as many restaurants are not so highly staffed, but it has more to do with culture. Don't assume people are unfriendly if they're not smiling nonstop. Endless smiles are an American thing, and seen as fake in most of the world. Don't assume you're being ignored if someone isn't checking on you to refill water and take any orders every 2 minutes. What Americans do when we eat out would be called speed dining in most of the world. It would be considered rude in much of Europe for a server to constantly ask if they needed anything. The table would be thinking, "No, now would you stop interrupting us every five minutes?" People are not in as much of a rush. It'll take a little longer, because it's just assumed you're not impatient and in a hurry. If you are in a hurry to eat quickly by all means let your server know. Otherwise, try to dial it back. Take your time, and let the food and drink sit in your mouth a while. Enjoy the company and the conversation. If you really want something it's not rude to get a server's attention. Don't snap or call. Eye contact with a an eyebrow raise is best and usually met with a single nod that says "I'll be right there." Then you double-nod back, "I am happy to wait." This shouldn't be all that foreign as American fine-dining restaurants are similar. Just don't have a tantrum if you need to hydrate and your water isn't always full.
Finally, you may want to understand some things about checks (more commonly and accurately called bills), especially in restaurants. You will need to ask for the bill. Otherwise you'll be sitting around for hours while the staff wonder why you're content to hold the table and look annoyed rather than pay and leave. Once you ask your bill will be presented. Usually this is just so you can check it. If paying by card you can put it down, just like in the states. Or, you can just tell your server the bill looks fine, thank you. They will then bring out the terminal so you can pay. They (or the manager) will bring the terminal around anyway, as this eliminates the need for a back-and-forth trip just to get your signature and retrieve your card. I'm also a fan of this method because it reduces the risk of identity theft. Many credit card numbers are stolen between the table and the till in the US, which is far less likely if the card never leaves the table.
5. Plan Your Trip, Call Your Credit Card, and Have Fun
You can use our site to determine the best times to travel. We recommend calling your credit card to verify your trip dates and locations. If you don't have one of the cards above make sure you won't be paying a foreign transaction fee. You should also take some time to understand your rental car benefits if you plan on renting. Does the card provide a damage waiver? Is it primary or secondary insurance? Chances are good you have to waive the (usually) overpriced damage waiver from the rental car company. Make sure you understand any additional benefits, such as lost baggage or travel insurance. Don't forget to use your best card for travel expenses when booking, and check whether they have a rewards portal to book through for extra savings.
That's it. You're set. Leave behind any payment methods you definitely won't be using, and enjoy your destination.