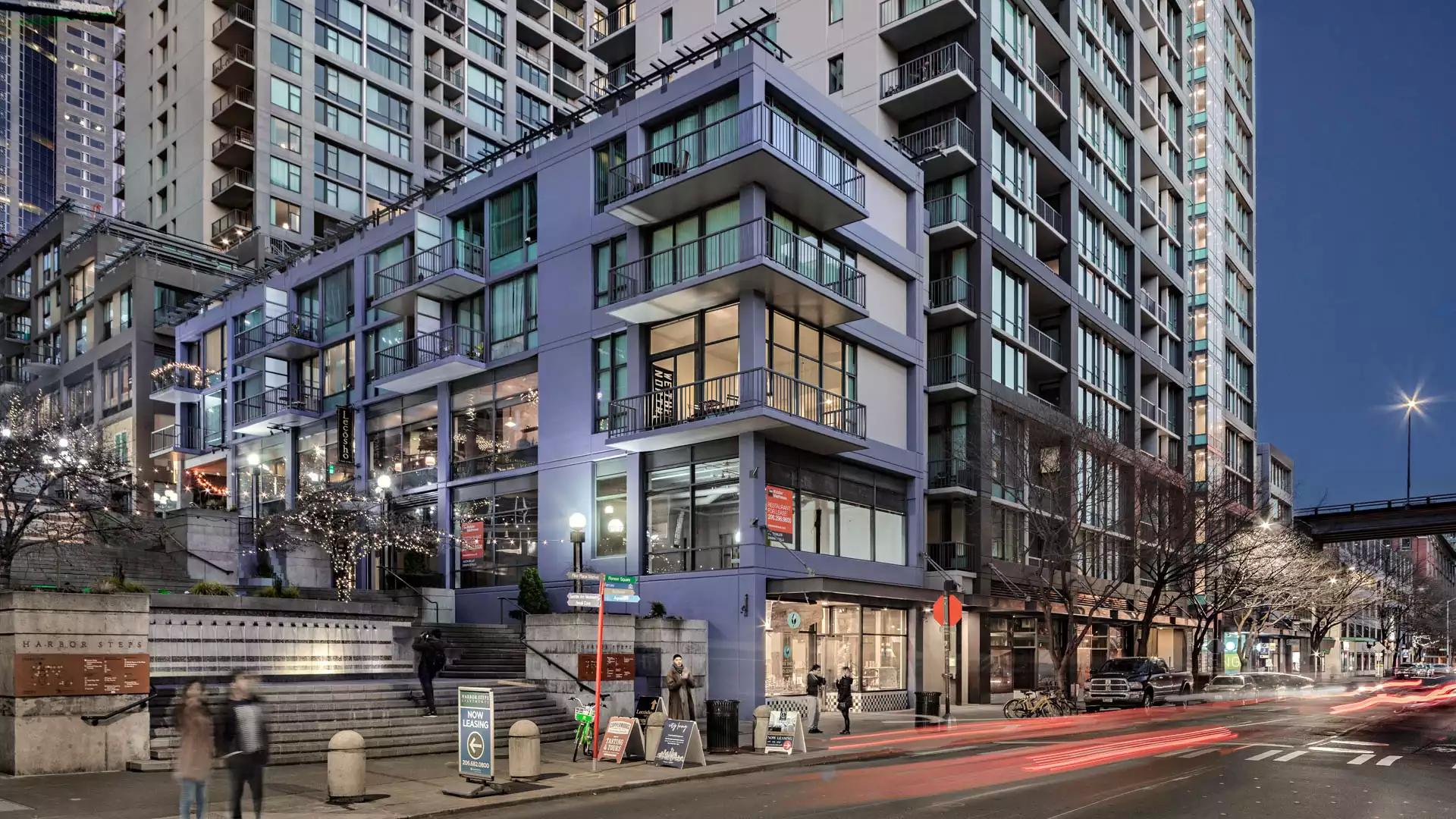 A first-hand look at renting a furnished apartment from the Domicile website in Seattle. The features and benefits of Domicile's locations, properties, amenities and other great offerings. Check out all the available Domicile furnished apartments in Seattle here.
If you are looking for a fresh, modern, convenient way to stay for your next business trip look no further than Domicile. On a recent business trip to Seattle, a colleague recommended Domicile for my lodging needs, and I couldn't be happier that I found them! This company is transforming the corporate housing scene by streamlining check-in, check-out, concierge services, and offering high-end furnished apartments, all for a shockingly affordable rate.
Domicile currently offers lodging at five different locations in the Seattle area, three in the South Lake Union area and two complexes in the downtown area. Since most of my work commitments were in the downtown Seattle area, I booked my stay with Domicile at their Harbor Steps facility. The location of this apartment could not have been any better – literally impossible for it to get better. Located on First Ave right in the heart of downtown Seattle, my apartment for the week was surrounded by a variety of great dining options, fabulous shopping, plenty of cultures and entertainment opportunities, and was only steps away from the famous Pike Place Market. In addition to the great location for after work-hours activities, I can definitely see why Domicile is appealing to corporate travelers from all over the country; my apartment at Harbor Steps was conveniently located near the Nordstrom headquarters, F5 Networks, and other large companies like Russell Investments and Zillow, making it a perfect location for corporate travelers from various professional industries.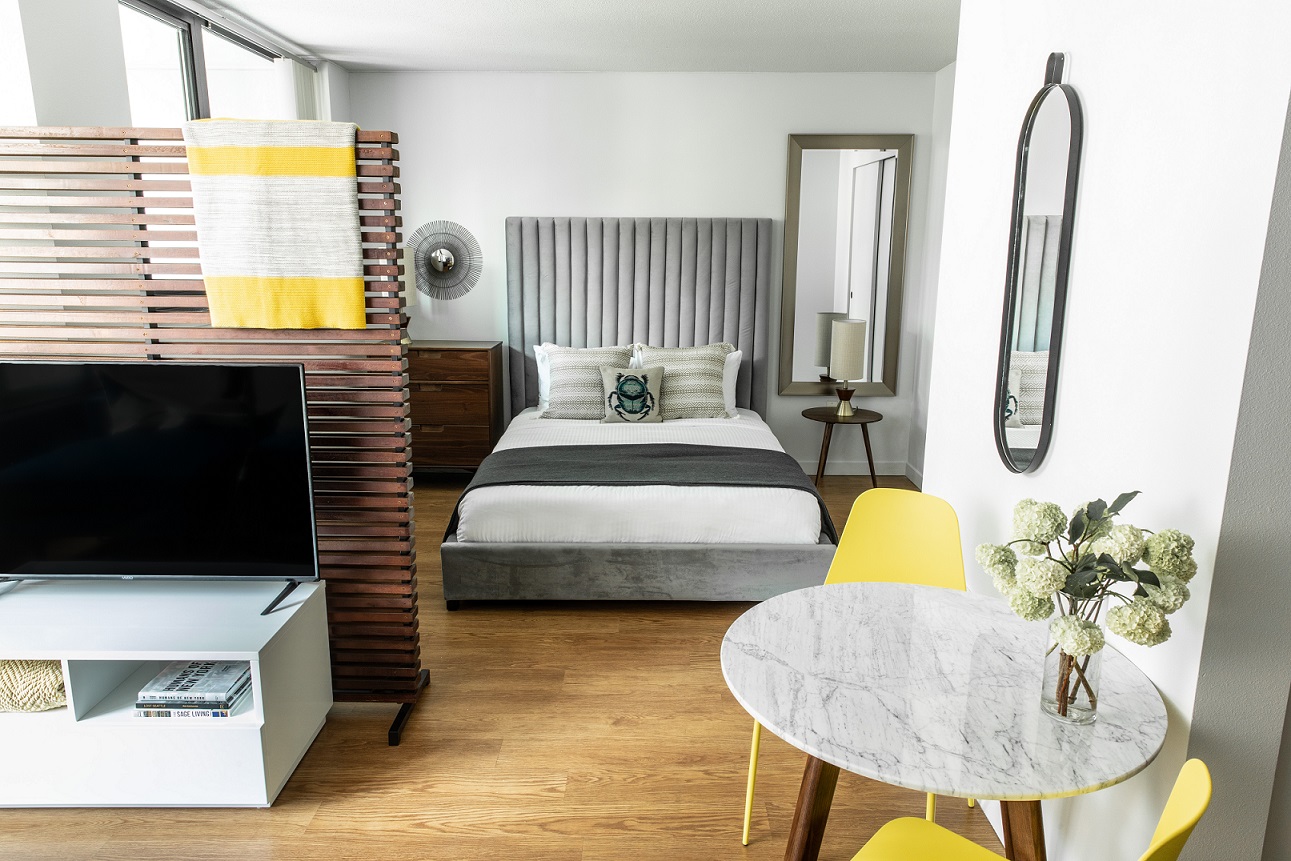 After containing my excitement over the great location of my apartment, I made my way inside, where the accommodations were equally impressive. Domicile users have the option of choosing a studio or one-bedroom apartment at the Harbor Steps location. I chose to stay in the studio apartment since I was staying alone and didn't plan on spending too much time in my room. Upon entering the apartment, I was pleasantly surprised to find the furnishings to be ultra-modern and clean. The décor was stylish yet welcoming, contemporary yet comfortable, nothing like the tired and dated hotel décor I half expected to see. And although I was in the studio apartment the room was spacious and open and had plenty of room for me, all of my bags, groceries, and I easily could have stayed comfortable with a guest.
Each of Domicile's apartments, even the studios, come with a fully functioning kitchen, which for me was a HUGE perk to using them over a standard hotel for my business travel needs. Nutritional eating and a regular workout routine are a huge part of my daily routine and when traveling for work I often find that these two things fall through the cracks. But with Domicile, having a full kitchen gave me the opportunity to cook healthy breakfasts and dinners rather than eat out for three meals a day like a normal hotel room would require me to do. Also, the apartment complex had a 24-hour fitness center and an impressive Peloton Cycling Studio, allowing me to conveniently fit in a daily workout even while away from home and my regular neighborhood gym.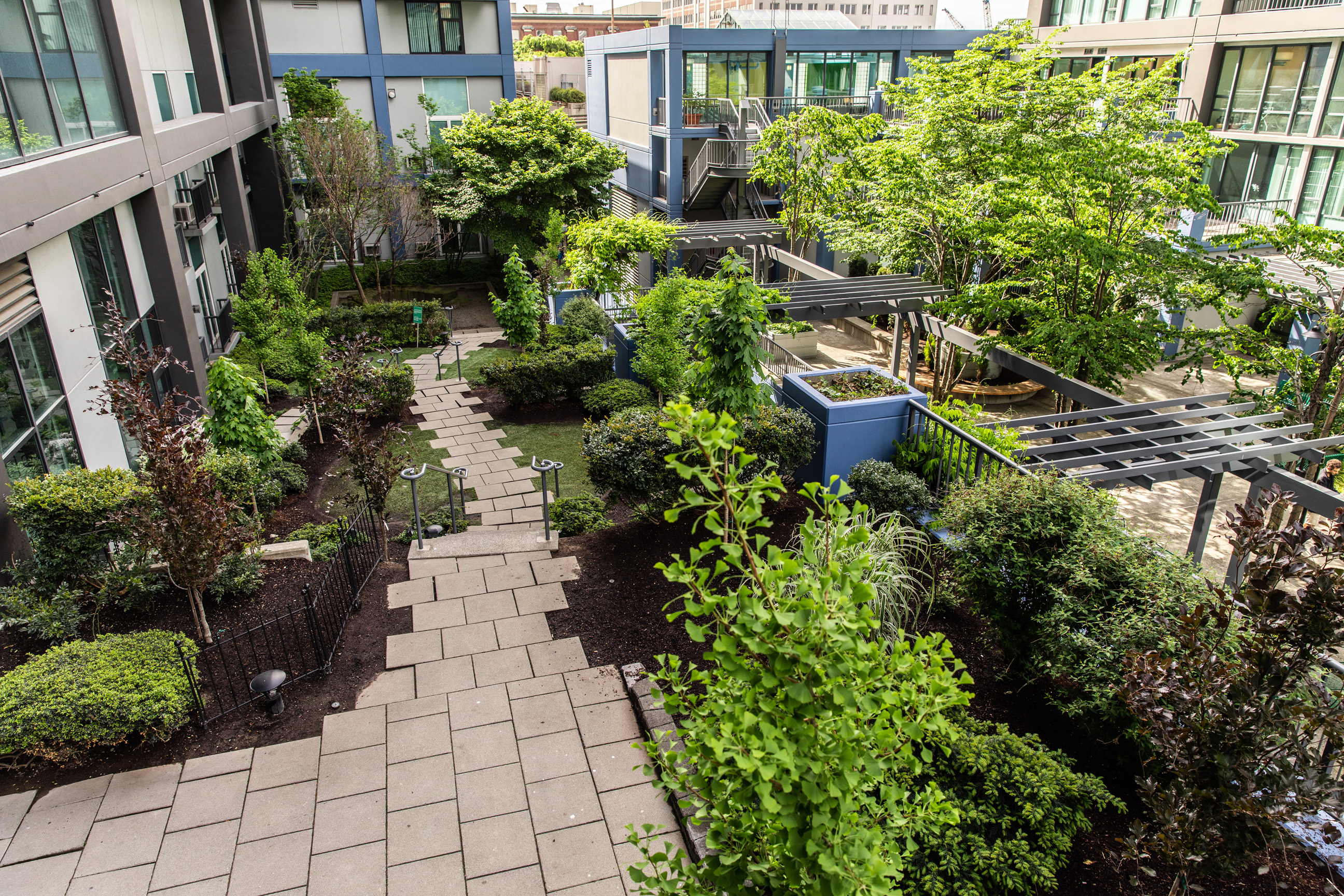 In addition to the great apartment and gym amenities, the Harbor Steps complex also provides access to a pool, various hot tubs, a lounge, an underground parking garage – for an additional fee, and they also offer pet-friendly apartments. The WiFi was fast, the televisions were Smart, and the kitchen appeared to have brand-new stainless-steel appliances and all the dishes and utensils you could need to prepare almost any type of meal. Being able to do my laundry in the middle of my week-long business trip, and checking in and out all over their user-friendly app, topped off my stay at Domicile as the most convenient and enjoyable business trip I have EVER been on.
Add in the breathtaking views of the city from my high-rise apartment rental and I began to wonder why I hadn't made Seattle my new permanent home. And while I already have a home that I love, and I have no intention of making my stays in Seattle permanent ones, I love the way that Domicile made me feel so at home during my trip that I felt like I was living like a local and getting the true Seattle experience.