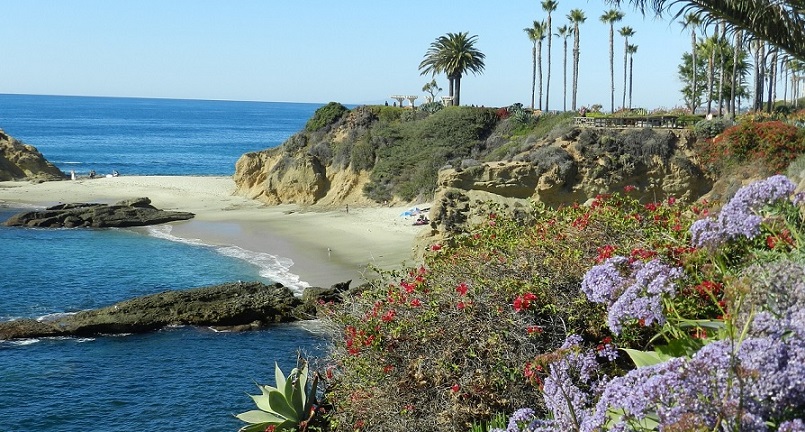 Way more than just a famous TV show from the mid aughts, Laguna Beach is one of the most beautiful series of beaches along the coast of California, if not in the world. While there are stretches of big, sandy areas, a short walk, drive or trolley ride can put you on a string of small, more private beaches with beautiful cove-like walls surrounding the area. Honestly, despite the popularity of Laguna, it's not terribly hard to find a quiet beach.
We just got back from a trip to Laguna Beach, and found some new favorites, so if you're looking for a quick weekend beach vacation or wanting to stay a bit longer, below you'll find some of our favorite things to do.
We booked our trip through Expedia, which made it easy to find a great deal on a flight, hotel and rental car. Start shopping exclusive deals here. The best airport to fly into in order to get to Laguna Beach is John Wayne (Santa Ana):
First, the best beaches in Laguna Beach
Below you'll find our five favorite beaches in Laguna Beach:
Table Rock Beach – Smaller than most of the beaches, but with beautiful cove walls, it feels very private. Parking on the street is free for two hours, but make sure you avoid private drives. There's an easy stairway access that isn't too hard to find.
Rockpile Beach – This was so much fun to explore and check out sea creatures living in the rocks when the tide was a little further out. Definitely a beautiful experience, even if it was a bit more crowded when we were there.
Crescent Bay – One of the northernmost beaches meant very light people traffic while we were there. We liked the private feel of this one, although not as impressive as Table Rock.
Main Beach – Ok, this one was definitely packed, and rightfully so, it's right off the main road, and it's a big sprawling beach with plenty of ways to access it. Honestly, if you're looking to get to a beach, not much easier than this. Plenty of food options right across the street, lots of sand area, and sometimes having a big crowd around if you're swimming/playing in the water can be an extra safety measure that's helpful, especially for families.
Moss Cove – Just south of Main beach is Moss Cove, for those who don't want to travel too far down the main highway but are looking for a bit more privacy.
The best food in Laguna Beach
Cheap eats: Wahoo's Fish Tacos – You're on the water, you better enjoy some fish tacos while you're here. It's a quick and dirty place to grab some food for cheap, we loved it, you will too if you're looking for a fast option that won't break the bank.
Moderately priced: Nick's Laguna Beach – Right in downtown Laguna Beach, Nick's restaurant is a moderately priced seafood shop, with other options for those less aquatically inclined. Plenty of options for a nice date or a group of friends. We didn't see any families in there while we were in town, but that might have been a coincidence.
Fine dining in Laguna: Splashes – If you're not concerned about cost, and are looking for that perfect waterfront dining experience, Splashes is a great option. Honestly, half the cost here is the view, but it's unbeatable. See their menu here.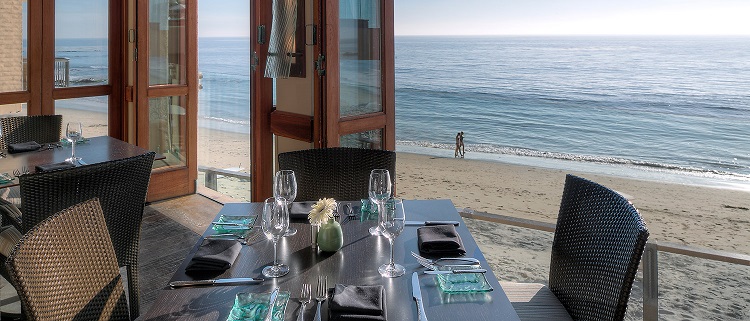 Looking for a great hotel in Laguna Beach?
We stayed in the Laguna Beach Inn – you can book a great rate on Expedia here. The service at the hotel was fantastic, with free wine happy hours, incredible views, and immediate access to the beach down just one flight of stairs. We highly recommend it to anyone traveling to Laguna, we would definitely stay there again.
Find exclusive hotel deals in Laguna Beach here: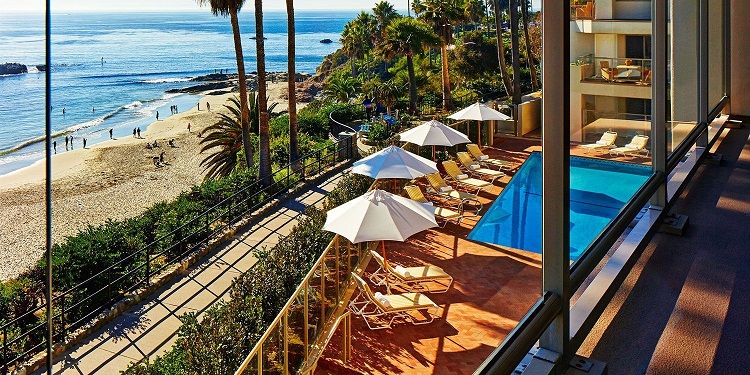 Fun things to do in Laguna Beach
There are tons of fun things to do in Laguna Beach, including art walks, hiking, mountain biking, surfing, and more. It's really up to you as to what sort of adventure you're up for. If you rent a car, you're right on the Pacific Coast Highway which is one of the most beautiful drives in the world, we definitely recommend driving down to San Clemente for a coffee and walk along the beach paths down in that neck of the woods.
What's your favorite thing to do in Laguna Beach? Let us know in the comments below!
—